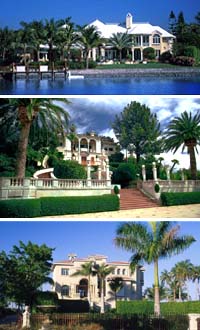 Click Here to See the Conforming Loan Limits
We are the experts at any loan over $1,000,000. If that is you, stay on this page and read to the bottom.
Home owners with loans under $1,000,000 Click Here.
How do I pick the right loan for my Luxury Home?

Fixed Rate Mortgage:

This is the most common type of program where your monthly payments for interest and principal never change. Fixed rate fully amortizing loans have two distinct features: (1) the interest rate remains fixed for the life of the loan and (2) the payments remain level for the life of the loan and are structured to repay the loan by the end of the loan term.

Adjustable Rate Mortgage (ARM):

This is a mortgage in which the initial interest rate is fixed for an initial period and is adjusted thereafter based on a pre-selected index. For example, on a 3 yr-1 ARM, the interest rate is the same for the first 3 years and will adjust periodically thereafter.
1-3
1 Month Option ARM
3-5
3/1 ARM, 5/1 ARM
5-7
7/1 ARM
7-10
10/1 ARM
10+
15/30/40 year fixed
---

---

---

Fixed Rate Mortgages

40 year fixed

30 year fixed
20 year fixed
15 year fixed

Monthly payments are fixed over the life of the loan

Interest rate does not change

Protected if rates go up

Can refinance if rates go down

Higher interest rate

Higher mortgage payments

Rate does not drop if interest rates improve

---

---

---

Advantages
Disadvantages

Adjustable Rate Mortgages
10/1 ARM
7/1 ARM
3/1 ARM
1 year ARM
6 month ARM
1 month ARM

Lower initial monthly payment

Lower payment over a shorter period of time

Rates and payments may go down if rates improve

May qualify for higher loan amounts

More risk

Payments may change over time

Potential for high payments if rates go up

---

---

---

Advantages
Disadvantages
First Time Buyer Programs

Lower down payment

Easier to qualify

Sometimes you may get lower rates

May be subject to income and property value limitations

Some programs which have government subsidies may have a recapture tax if you sell the house too early.

---

---

---

Advantages
Disadvantages
Stated Income Programs

Don't need to verify income

Faster approval

Higher rates

Higher down payment

---

---

---

Advantages
Disadvantages
No Point Programs

Lower closing costs

Less money required to close

Higher rates

Higher payments

---

---

---

Advantages
Disadvantages
Home Equity Line of Credits

You only borrow what you need

Pay interest only on what you borrow

Flexible access to funds

Interest may be tax deductible

Rates can change. The maximum interest rate is normally high.

Payments can change

Harder to refinance your first mortgage

---

---

---

Advantages
Disadvantages
Home Equity Fixed Loan

Fixed payments

Interest may be tax deductible

Higher interest rates than on 1st mortgages

Harder to refinance your first mortgage

---

---

---

Top of Page
Home & Real Estate Services Specialty Products
Besides our standard loan programs, we also have a large number of unique Home & Real Estate Services financing options customized for your needs:
Interest Only Mortgages:
Looking for a mortgage with the lowest possible payment? Planning on moving or refinancing in a short period of time? You may want to consider a mortgage that offers an interest only payment and allows you to qualify for a higher loan amount, while maintaining your monthly liquidity. You pay interest only for 10 years and then the loan becomes fully amortized for the remaining 15 or 20 year term. If you choose, you can pay as much towards the outstanding principle amount at any time with no pre-payment penalties.
Construction to Permanent Mortgages:
Planning on building a new home or remodeling your existing home? This mortgage program offers a one time closing for the construction loan and the permanent loan, which saves you both time and money. The closing costs are paid up-front, then once the home is completed the loan is modified to a permanent loan. The loan is interest only during the construction period and you can choose a one time funding or two time funding option. The one time funding option is a 7-year term ARM mortgage interest only during the construction period at the 7-year ARM rate, then modified to a fully amortized 7-year ARM. The two time funding option offers a rate of Prime –1%, interest only during the construction period, then modified to one of our other loan programs at the market rate at that time.
Negative Amortization Mortgages:
Need additional cash flow? Looking for mortgage rates 2 – 3% below the current mortgage rates? Looking for the absolute lowest monthly payment? Are you a first time homebuyer, investor and/or buying-up? This mortgage program is just what you have been looking for –– it offers the lowest payments or payment options with 15, 30 and 40 year mortgage terms. The outstanding principal balance goes up, rather then down, because payments may not cover the full amount of interest due. The unpaid interest is added to the principal. The monthly payment is fixed for the initial fixed interest period, then adjust annually from the first payment date. There is a maximum annual payment cap increase or decrease –– except every 5th year when the loan is re-casted or when the principal balance exceeds 125% (or lesser % depending on state requirements). You can choose your own flexible payment options such as: Minimum amount due (may result in deferred interest), Minimum payment plus any deferred interest (interest only), Full principal and interest to amortize loan fully within the original loan term, or Fully amortize the loan over an initial 15-year-term.
Limited/No Documentation Mortgages:
Are you looking to take the hassle out of purchasing or refinancing your home? Is your income not easily documented? This mortgage program is designed to expedite the processing of your mortgage application with less documentation required from you. For the Limited Documentation mortgages no income is verified. For the No Documentation mortgages no income or assets are verified. You must have an excellent credit history for either program.